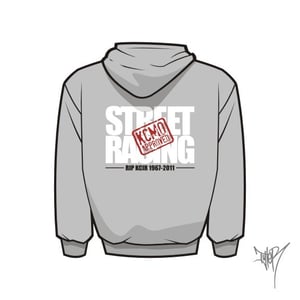 $

39.99
01.10.12 (All Hoodies have Shipped, thanks again everyone)
12.23.11 (HOODIES HAVE STARTED SHIPPING!)
12.06.11 (Sold OUT!)
Good way to start off the new year, with your new SWAG from KCSR.org! :) We are having these made not to make any money off of, but to show people we miss our beloved track.
Thanks for the support you all gave Todd, Chris, Robbie, and the rest of the KCIR Crew. We hope to see some of these hoodies for years to come around the "other" tracks.
red/black/white screen print with waterbased inks on an american apparel heather grey zip-up / pullover hoodie.